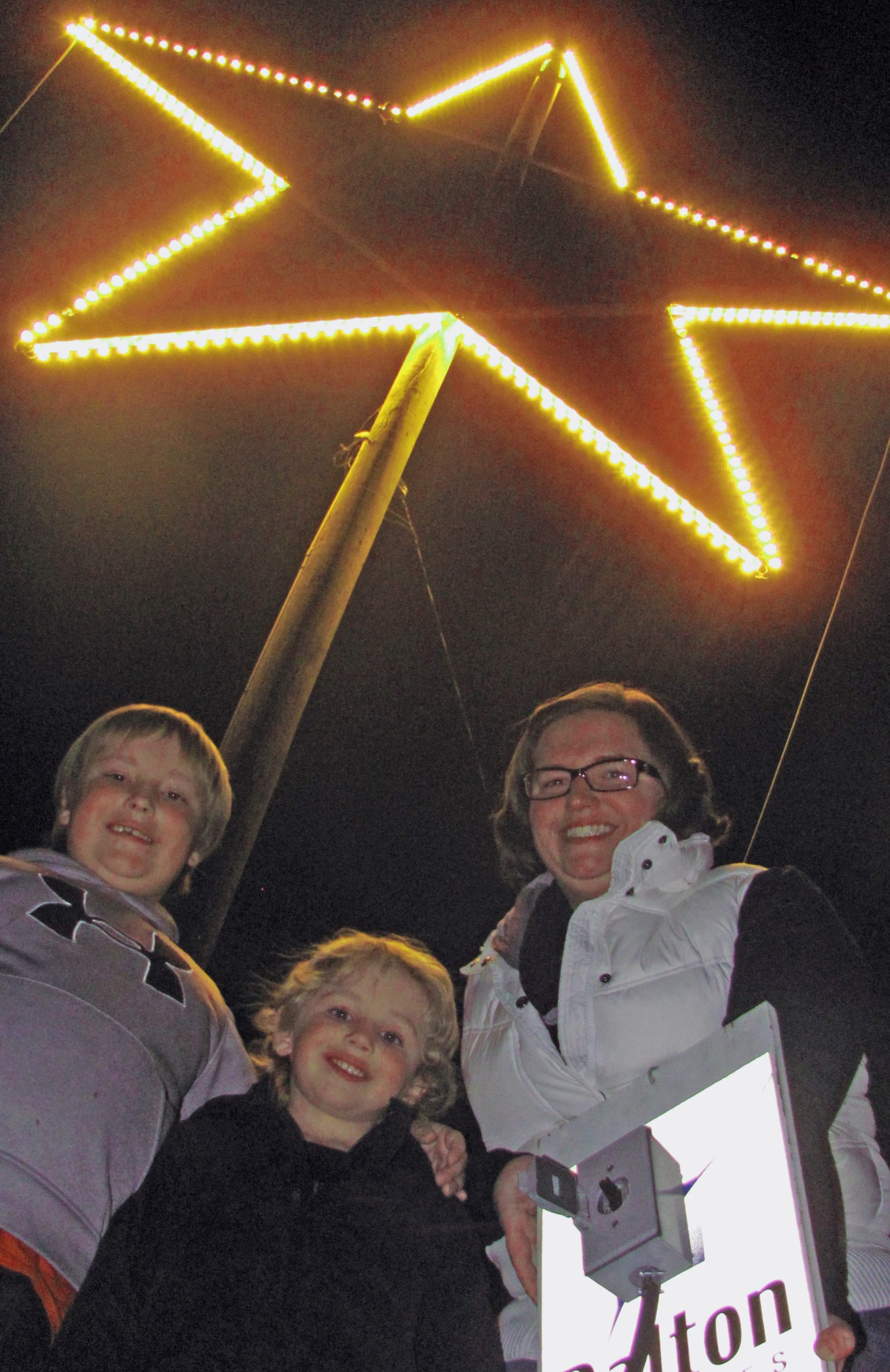 Dalton Utilities lit the Christmas star on top of Mount Rachel on Fri., Nov. 29, continuing a tradition that has been a part of our community for 78 years.   The star, owned and maintained by Dalton Utilities, is lit each year at the beginning of December and shines throughout the holiday season through New Year's Day.
The Mount Rachel Star measures 40 feet in diameter and towers 65 feet above the mountain.  Over 230 bulbs give the star its glow, which can be seen several miles away.
The original Mount Rachel Christmas star was built in 1935 by the late Carl McCamy, former superintendent of Dalton Utilities.  The original structure was a 30-foot tall wooden frame with 150 light bulbs attached to a pole.  The temporary structure was placed on top of Mt. Rachel each December.
Traditionally, the star has been lit by McCamy descendants or others closely associated with Dalton Utilities.  This year, the star was lit by Kelly McCutcheon Metka and her two sons Lawson, age 7, and Candler, age 5.   Ms. Metka is now a resident of Woodstock, GA where she lives with her husband and two sons.  She is a native of Dalton and is the great-granddaughter of Carl and Eva McCamy.  "I remember lighting the star several times when I was a kid and really wanted my children to have that same experience," said Ms. Metka. "We are getting into the great-great-grandchildren now.  It is so nice to see this tradition continuing.  It was always one of my favorite memories about Christmas in Dalton."
A local tradition, the Mount Rachel star is an integral part of Dalton Christmas celebrations. "The star was lit every year after 1935, except during the blackouts in World War II.  After my father's death, my mother would light the star," according to the late Ann Henderson, daughter of Carl and Eva McCamy, who was interviewed several years ago.
In 1947, V.D. Parrott, Jr., former Dalton Utilities' president, and the Board of Water, Light and Sinking Fund Commissioners replaced the original wooden star with a permanent structure made of iron.  The star was completely overhauled in 2005 when Dalton Utilities' personnel rebuilt the frame, replaced all the lights and rewired the structure, so that this beacon of the holiday season could continue to light our holiday celebrations for years to come.